THE OFFICIAL JORDAN AEROPESS CHAMPIONSHIP 2022 / HOSTED BY DIMITRI'S COFFEE & JORDAN COFFEE FESTIVAL 2022
 مسابقة عالمية لصنع القهوة ، مصممة للعثور على أفضل فنجان قهوة في العالم! ستقام نسخة البطولة الرسمية في الأردن خلال مهرجان الأردن للقهوة  في بوليفارد العبدلي بتاريخ ١٨/٨/٢٠٢٢ ، الفائز في النسخة الأردنية سيمثل الأردن خلال النهائيات العالمية المقامة في كندا
The World AeroPress Championship is a global coffee brewing competition, designed to find the best cup of AeroPress coffee in the world. The official Jordan tournament will be held during the Jordan Coffee Festival on 08/18/2022, the winner of the Jordanian version will represent Jordan during the global finals in Canada
PARTICIPATION TICKET PRICE : 10 JD ( Including a coffee sample for training before the competition )
COMPETITION DATE : 18 AUGUST 2022 – BOULEVARD ABDALI
YOU CAN PAY ONLINE OR CASH WHEN YOU RECEIVE THE OFFICIAL COFFEE 1 WEEK BEFORE THE COMPETITION
COMPETIOTION DETAILS : 
The competition is a multi-round, elimination tournament at Jordan Coffee Festival 2022
In each round, three competitors brew coffee simultaneously.
Competitors have 8 minutes in which to prepare, brew, and present their coffee.
When the time is up, the coffees are presented in identical vessels to a panel of three judges.
The judges blindly evaluate each coffee and make their own private assessment as to which is the best.
On the count of three, all judges simultaneously point to their preferred coffee.
The winner progresses to the next round. The losers are eliminated.
The brewer used must be a genuine AeroPress. No other brewer may be used in the drink preparation.
All three parts of a genuine AeroPress brewer must be used; the chamber, the plunger, and the filter cap. Aftermarket or non-genuine parts are not allowed.
Ground coffee and water are the only ingredients allowed.
Any type of filter is allowed, so long as it does not replace the filter cap itself (see rule #2). The filter can be made out of paper, metal, cloth, or any other material.
Competitors are welcome to bring their own grinder, kettle, scales, or water, no other equipment is allowed.
The Hosts DIMITRI'S COFFEE have specified a competition coffee, this is the only coffee that may be used. ( Coffee samples will be given 1 week ahead of competition , collection point will be communicated to participants.)
Competitors must present a minimum of 150ml of brewed coffee, in the vessel provided.
During the competition coffees not presented within the time limit of 8 minutes will not be evaluated.
Failure to comply with any of the above will result in disqualification.
The final winner will win a full paid trip to participate at World AeroPress Championship in
VANCOUVER, CANADA DECEMBER 1–3 2022
The winner is responsible to obtain required visa from the Canadian Embassy in Amman ( we will provide all required bookings & official invitation letter for the competition ) failing to obtain entry visa to Canada will results in withdrawing the award from the winner.
The Participants should be living or residents in Jordan for at least 3 months to be accepted at the competition.
JUDGING:
Each round is judged blind using the cupping technique of spoon, slurp, and spit.
Competitor's number will be marked on the underside of the cups where they are completely hidden.
There is no scoresheet or formal judging criteria. Judges are simply answering: "Which cup would I prefer to drink all of?"
Each judge will arrive at their own conclusion, without discussing the samples with their fellow judges.
On the count of three, all judges will point simultaneously, confidently, and definitively at the cup of their choosing.
After judging, the MC will lift the winning cup, revealing the name of the glorious round winner.
In the event of all three judges pointing at different cups, the MC or a pre-determined Head Judge will taste the coffees, and decide the round. This decision is final.
The official Jordan Aeropress Championship Hosting Rights are owned exclusively by DIMITRI'S COFFEE 
Limited seats available
Organizing committee will contact you after registration to get the official coffee bag for the competition 1 week before the competition date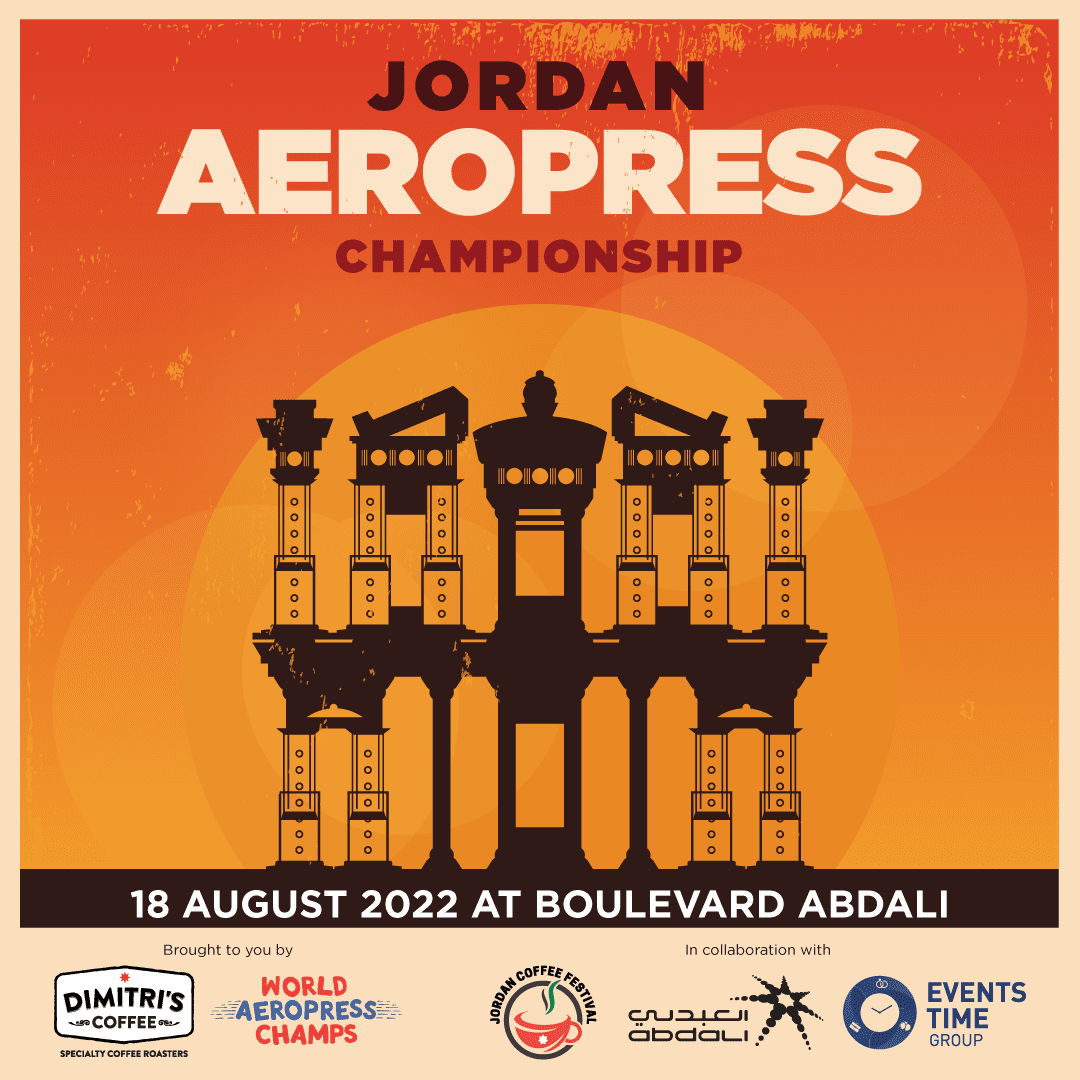 ---
---